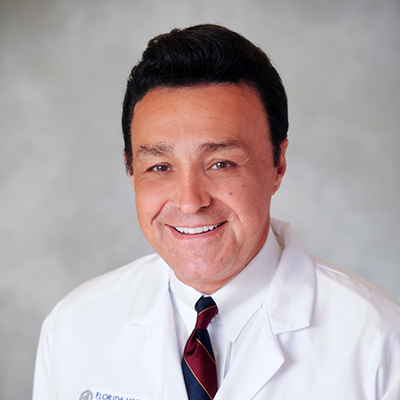 Farid Gharagozloo, MD
Surgeon

Member of the AdventHealth Medical Group
Dr. Gharagozloo, medical director of Thoracic Surgery at AdventHealth Celebration, is at the forefront of today's advancements in robotic-assisted thoracic surgery. He specializes in minimally invasive surgical approaches for benign (non-cancerous) and malignant (cancerous) esophageal disorders and advanced thoracic malignancies. As a leading expert in his field, Dr. Gharagozloo has pioneered multiple surgical techniques and tools, including two patents—tissue sealant for aerostats and tissue healing accelerant — which elevate both the surgical and healing process.
As a Harvard, Mayo Clinic and Johns Hopkins-trained surgeon, Dr. Gharagozloo has contributed to groundbreaking techniques in lung cancer surgery which have greatly improved survival rates. His continued research and positive patient outcomes have led to becoming a well-known lecturer and author, as evidenced by hundreds of articles in peer-reviewed journals, Textbook of Robotic Surgery being selected as medical textbook of the year, as well as grants from American Heart Association and Thoracic Surgery Foundation. Dr. Gharagozloo is also a member of the AdventHealth Global Robotics Institute, internationally recognized for its cutting-edge research, training and advancements in minimally invasive, robotic-assisted surgery. 
Prior to launching the Thoracic Surgery Program at AdventHealth Celebration, Dr. Gharagozloo was the chief of thoracic surgery, robotic thoracic surgery and esophageal surgery at the University of Arizona's Banner – University Medical Center. He served as chief of clinical cardiothoracic surgery and clinical professor of surgery at the George Washington University Medical Center. Plus, was surgeon-in-chief and director of the Washington Institute of Thoracic and Cardiovascular surgery.
Dr. Gharagozloo earned his medical degree at John Hopkins University in Maryland, and completed his surgical residency at the Mayo Clinic in Rochester, Minnesota. He continued his training in cardiac surgery research as a fellow at Harvard Medical School in Boston. He is board certified, fellowship trained and diplomat of the American Board of Thoracic Surgery, plus a board member of the Society of Robotic Surgery, among many other professional organizations. Additional memberships include the Society of Thoracic Surgeons, American College of Surgeons, Society of Laparoendoscopic Surgeons, Priestly Society of Surgery and Society of Robotic Surgery
Request an Appointment
Education
Medical Degree
John Hopkins University in Maryland
Surgical Residency
Mayo Clinic in Rochester, Minnesota 
Fellowship
Harvard Medical School in Boston