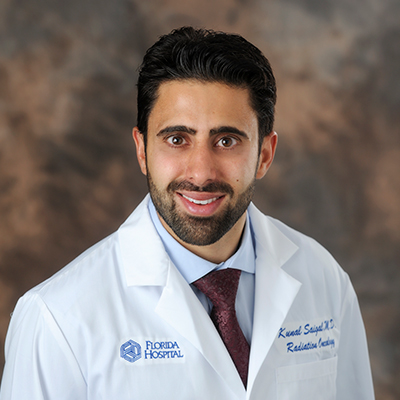 Kunal Saigal, MD
Radiation Oncologist

Member of the AdventHealth Medical Group
Locations:
2501 N. Orange Ave., Suite 181, Orlando, FL, 32804
1300 W. Oak St., Kissimmee, FL, 34741
Dr. Saigal is a board-certified and fellowship-trained radiation oncologist. He specializes in using brachytherapy, a type of radiation therapy procedure where radioactivity is placed within or very near to tumors, to treat an array of cancers affecting the breast, prostate, head and neck, and gynecologic system. He earned his medical degree with research distinction from the University of Miami Leonard M. Miller School of Medicine. During medical school, he participated in a clinical research training fellowship at the National Institutes of Health. Upon graduating, he completed an internal medicine internship at Georgetown University's Washington Hospital Center, in D.C. He then returned to the University of Miami to complete a residency in radiation oncology, during which he served as Chief Resident. 
He joins Radiation Oncology Specialists after completing a fellowship in brachytherapy and advanced radiation techniques at Mount Sinai Beth Israel Medical Center and Roosevelt Hospital in New York, where he focused on treating cancers of the head and neck as well as gynecologic and genitourinary systems. As a dedicated physician and researcher, Dr. Saigal has authored several book chapters and peer-reviewed publications on breast, head and neck and gynecologic oncology. His research has consistently been selected for presentation at the national level, including the American Society for Radiation Oncology's Annual Meeting.
He maintains active memberships in the American Brachytherapy Society, American Society of Clinical Oncology and American Association of Physicians of Indian Origin. Additionally, Dr. Saigal continues to conduct ongoing research focused on identifying new methods of delivering targeted radiation therapy and the development of paradigms to treat a diverse population of patients affected by cancer.
Request an Appointment
Education
Medical Degree - University of Miami Leonard M. Miller School of Medicine, Miami, FL
Internship - Internal Medicine, Georgetown University / Washington Hospital Center, Washington, DC
Residency - Radiation Oncology, University of Miami / Jackson Memorial Hospital, Miami, FL
Fellowship - Brachytherapy and Advanced Radiation Techniques, Mount Sinai Beth Israel Medical Center / Roosevelt Hospital, New York, NY
Awards
Dr. Saigal's research has consistently been selected for presentation at the national level, including the American Society for Radiation Oncology's Annual Meeting. He maintains active memberships in the American Brachytherapy Society, American Society of Clinical Oncology and American Association of Physicians of Indian Origin. Board Certified, Radiation Oncology