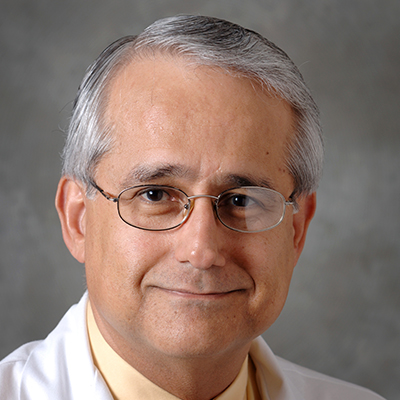 Sigfredo Aldarondo, MD
Pulmonologist
Dr. Sigfredo Aldarondo, MD is a board-certified internal medicine, critical care, pulmonary disease and pulmonology physician. Dr. Aldarondo earned his medical degree from the University of Puerto Rico. He went on to complete his internship and medical residency at Veterans Administration Hospital in Washington, DC. Dr. Aldarondo completed his medical training with a fellowship at Brooke Army Medical Center in Fort Sam Houston, TX.
An established member of the medical community, Dr. Aldarondo servers in a variety of leadership positions, including Secretary of Medical Staff at AdventHealth Orlando, Medical Director of the AdventHealth Respiratory Care Department, Medical Director of the University of Central Florida Cardiopulmonary Sciences School, Assistant Medical Director of Select Specialty, and is on the Board of Trustees for the American Lung Association of Central Florida. An award-winning physician, he has received the Physician Award for Integrity, the Best Doctors Award, and the Don Quijote Award.
Dr. Aldarondo is a member of the American Medical Association, the American College of Chest Physicians, the American Thoracic Society, the Florida Medical Association, and the Pan American Medical Association. As a specialist in the field of pulmonology, Dr. Aldarondo is prepared to diagnose and treat diseases and disorders of the respiratory tract. Dr. Aldarondo performs procedures to diagnose disorders such as asthma, pulmonary fibrosis, lung cancer, lung disease, COPD, emphysema and bronchitis, among other diseases and complications. 
Request an Appointment
Education
Medical School
University of Puerto Rico 6/1/1972
Internship
Veterans Administrative Hospital
Residency
Veterans Administrative Hospital
Fellowship
Brooke Army Medical Center 
Awards
Physician Award for Integrity
Best Doctors Award
Don Quijote Award
Professional Memberships:
AMA, American College of Chest Physicians, American Thoracic Society, FMA, Pan American Medical Association Appointments:Secretary of Medical Staff- Florida Hospital Orlando, Medical Director of the Florida Hospital Respiratory Care Department, Medical Director of the University of Central Florida Cardiopulmonary Sciences School, Assistant Medical Director of Select Specialty, Board of Trustees for the American Lung Association of Central Florida