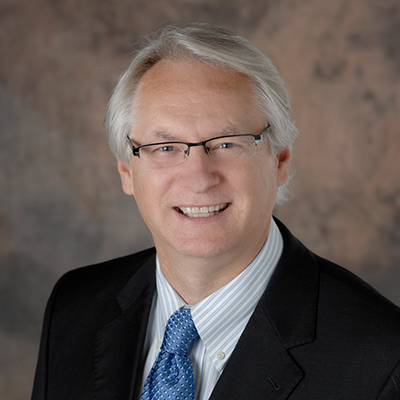 Steve Eubanks, MD
General Surgeon

Member of the AdventHealth Medical Group
Locations:
2415 N. Orange Ave., Suite 400, Orlando, FL, 32804
Steve Eubanks, MD, FACS is an internationally recognized and board-certified general surgeon at The Center for Specialized Surgery in Orlando who currently serves as Director of AdventHealth Academic Surgery and as Medical Director of the AdventHealth Institute for Surgical Advancement. His primary areas of clinical expertise and research interest include advanced minimally invasive surgery and diseases of the upper gastrointestinal tract. Some of the many surgeries in which he specializes include laparoscopic Nissen fundoplication for gastric reflux and laparoscopic Heller myotomy, paraesophageal hernia repair, inguinal hernia repair, splenectomy, adrenalectomy, cholecystectomy, appendectomy and gastric and intestinal surgery as well as open gastrointestinal surgery.
He is a past President of the Society of American Gastrointestinal Endoscopic Surgeons (SAGES) and was the first Minimally Invasive Surgery Fellow at Duke University after completing his tenure as Chief Resident – General Surgery at Georgia Baptist Medical Center in Atlanta and graduating with his medical degree from the University of Alabama School of Medicine.
Request an Appointment
Education
Medical School - University of Alabama Birmingham, School of Medicine
Laparoscopic Surgery - Duke University Hospital
Surgery - Georgia Baptist Medical Center
Awards
Board Certifications - Surgery, American Board of Surgery
Past President, Society of American Gastrointestinal Endoscopic Surgeons (SAGES)
Latin American Society of Endoscopic Surgeons (ALACE) Honorary Membership
Southern Surgical Association, Shipley Award for Best Paper, 2007 
Society of American Gastrointestinal and Endoscopic Surgeons (SAGES), Circon Gold Laparoscope Award For Young Researcher Of the Year, 1998
Society of American Gastrointestinal and Endoscopic Surgeons (SAGES) Best Video Award, Westcott, Eubanks
Resident of the Year, Georgia Baptist Medical Center
First Place Residents' Paper Competition, American College of Surgeons, Georgia Chapter
Resident Award for Surgical Research, Georgia Baptist Medical Center